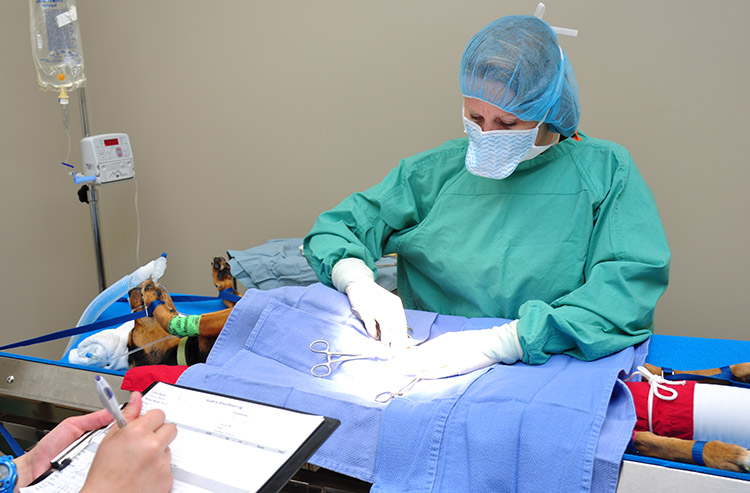 All of our patients are given a thorough physical exam and must have pre-surgical blood work prior to any anesthetic procedure performed in our office. We choose your pet's anesthetic protocol based on the results of their blood work. We recommend different blood monitoring panels based on your pet's age and the surgery they will be undergoing.
Patient Monitoring
We provide the same level of patient monitoring that you would receive if you were in a human hospital. We monitor your pet's blood pressure, heart rate and rhythm with an electrocardiogram (EKG), internal body temperature, and their oxygenation status. We also have a licensed veterinary technician to monitor all of our surgery patients. Our LVT is the equivalent to a nurse anesthetist in human medicine.
Pain Management
Healing with Heart Veterinary Care believes pain management should start before any procedures. Many studies have shown that if pain management is not initiated prior to the surgery it is difficult to ever control the pain. We believe in maximizing your pet's comfort before, during and after their procedure. There are some surgeries that Dr. Deavers will request you bring your animal in the day before surgery to apply a pain patch. This is because it takes 12 hours for the medicine to start producing pain control. We want it on board when your pet is having surgery and after they wake up from anesthesia.
We believe in a multi-modal approach to pain management. This means that we use multiple drugs to block pain receptors at multiple levels on the pain pathway. We are able to administer lower amounts of each drug so the body doesn't have to process as many chemicals and their recovery is faster and smoother than traditional methods.
Healing with Heart Veterinary Care
Pet owners in the southern Hampton Roads area trust Healing with Heart Veterinary Care to perform a wide range of surgery on their pets. We believe certain surgeries should only be performed by a surgical specialist. For complicated surgeries, such as orthopedic procedures Dr. Deavers refers her patients to a surgical specialist. Please call us if you have any questions regarding the surgical procedures we perform, or if you would like to know more about what we offer.