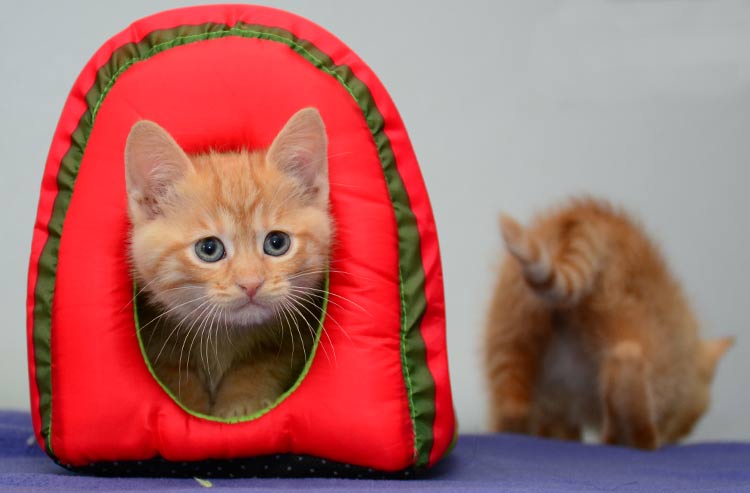 We can't wait to meet your new kitten and welcome him or her into our family too!
The lifetime of love and strong bond you will share with your cat begins the day you bring your new kitten home. You both knew it from the moment you locked eyes, this is a bond to be reckoned with. Although you are anxious to get to know each other don't forget proactive veterinary care is essential to the long term health of your beautiful new friend. We look forward to building a lasting relationship with you and your fantastic new kitten. Our hospital is the best resource you have for keeping your kitten healthy so they grow into the most wonderful cat they can be.
Your Kitten's First Wellness Exam
Make scheduling an appointment with Healing with Heart Veterinary Care for your kitten's first wellness exam a number one priority while you are getting your kitten adjusted to their new home. This initial exam includes a thorough "nose-to- tail" physical and dental evaluation, allowing us to establish an individualized wellness care program for your kitten as they grow, including proper vaccinations, parasite protection and proper nutrition. It is the best time to address all of your questions and/or concerns about your kitten and kitten care in general.
When you pick up your kitten, remember to ask what and when he or she was fed. Replicate that dietary schedule until your first Kitten visit with us. We will discuss your Kitten's breed, anticipated lifestyle and nutritional needs with you during your first Kitten wellness exam.
Your kitten's first exam includes:
A complete physical and dental examination
A customized vaccination program dependent on your kitten's age and anticipated lifestyle
Internal and external parasite screening
Intestinal parasite deworming (as needed)
A full screening for feline-specific virus' such as Feline Leukemia Virus and Feline Immunodeficiency Virus
Recommendations for controlling and preventing fleas and ticks
Litter box training and behavioral consultation
Nutritional guidance for proper food portions and type of food to serve
Always remember to bring your kitten in a cat carrier and any prior health records that you received when you brought your kitten home. This includes vaccine and deworming history, spay or neuter and any other medical records you have.
We recommend a cat carrier that can be easily opened from the top. Some cats feel more comfortable in their carrier at the veterinary office. If this is the case for your kitten, we can do most of the exam in their safe place with this type of carrier. Please avoid soft sided carriers.