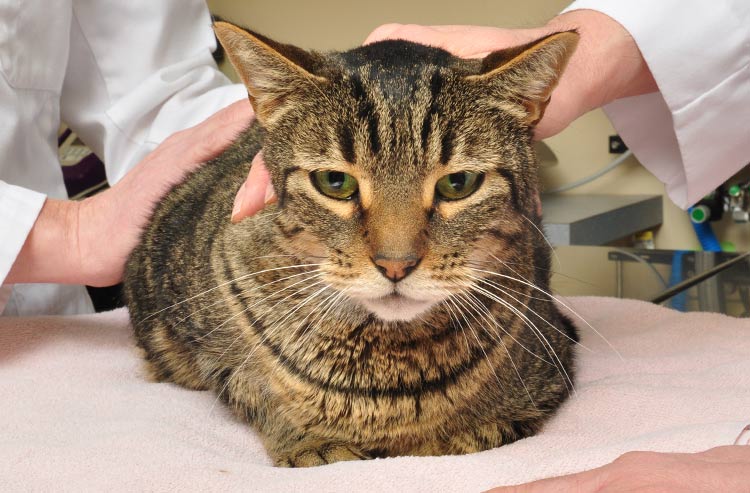 It is important to be familiar with the many health changes that your cat will experience as they age. Cats over 7 are considered "seniors". We recognize the aging process is always variable, but it is well documented that the most common and treatable diseases in our feline friends develop as early as 7 years of age.
It is difficult to recognize these changes in the early stages because there are no obvious signs. Aging is a gradual process, as are most diseases, signs usually develop so slowly they often go unnoticed or treated until the cat is at the end stages of disease. Remember that cats are masters at hiding their illness.
At Healing with Heart Veterinary Care, we believe it is critical to intervene and catch health issues early by offering proactive, preventative and thorough senior cat care. The best time for you to begin your cat's senior care program is before age-related complications arise. Together we will manage your senior cat's good health, vitality and increase his or her well-being.
We encourage you to bring in your senior cats for preventive care twice a year to keep their health thriving through their senior years. If you notice any symptoms or signs of vision or hearing loss, arthritis or obesity please discuss these issues with Dr. Deavers during the exam consultation.
Your Senior Cat's Wellness Exam
As your cat ages, the type of medical care your cat needs changes too. Senior cat exams include an in-depth analysis of your cat's overall health and senior cat diagnostic testing.
Your cat's senior wellness exam will include:
A comprehensive senior pet physical exam and extensive consultation.
Diagnostic testing, such as blood work, urine and fecal analysis, is recommended annually. In some cases additional testing is recommended.
Discuss changes in your cat's behavior such as refusal to jump, changes in sleep patterns or lapses in litter box training.
Nutrition and Weight Management Counseling.
Recommendations for environmental enrichment and regular exercise.
Please call our office for a senior wellness exam if your cat is exhibiting any of the following common symptoms of illness. These signs may indicate a significant problem for our senior felines:
Vomiting
Diarrhea or constipation
Weight Loss/gain
Loss or decreased appetite
Increased Thirst or urination
Lethargy
Change in elimination behavior
Failure to use the litter box
Limping
Difficulty or inability to climb or jump
New lumps or bumps
It is never too early to talk to us about senior wellness. Providing high quality preventive care throughout your cat's lifetime is the best way to ensure happy and healthy golden years for you and your cat. Early medical detection and treatment of diseases in your cat can only be accomplished through regular examinations and screening tests. It may seem like your senior feline friend knows everything but they need your help to stay healthy so please give us a call today to schedule an exam for your cat.