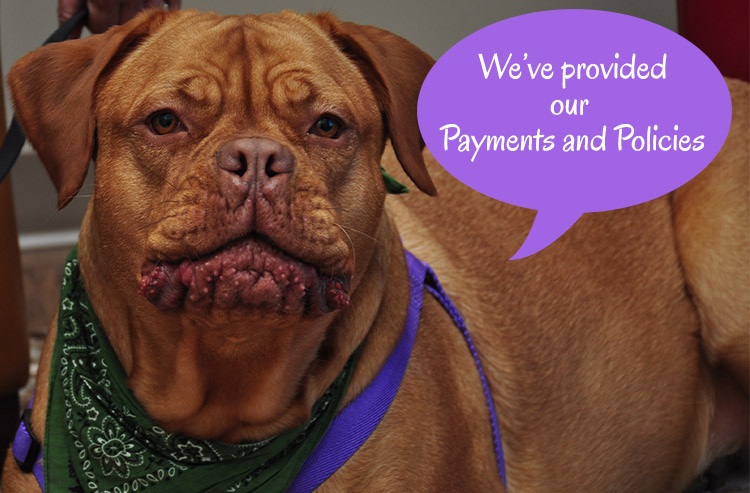 Appointment Policy: We prefer to see patients by appointment to allow ample time for all patients and scheduled surgical procedures. Emergency cases will always be seen immediately, so an occasional appointment delay is inevitable. Please call us or use the email appointment form on our website to schedule your pet's appointment. We set aside at least 30 minutes in the doctor's schedule for each pet's appointment. For new clients, please note we need your pet's prior medical records at least 24 hours prior to their appointment.
Appointment Cancellation Policy: If you need to change or cancel your appointment, please call us at (757)689-0246. We request the courtesy of at least 48 hours' notice for cancellations so that we may schedule another patient in your place.
Patient Arrival Policy: For your pet's protection and the protection of other pets, all dogs must be on a leash and properly controlled while in the waiting area or exam rooms. All cats must be presented in an appropriate cat carrier or on a leash.
Payment Policy: We require full payment at the time that services are rendered. For your convenience, we accept cash, check, Visa, MasterCard, Debit, and Care Credit. Our credit card merchant requires an original signature by the cardholder on all credit transactions. If your pet needs to be brought in by a friend or family member, please make sure that you have established a method of payment.
Return Policy: Products that have left our facility cannot be returned. However, according to manufacturer guarantee, opened bags of dog and cat food may be returned or exchanged.
Prescription Policy:
Prescription Refills. Please give us as much notice as possible when refills are needed.
We do not recommend purchasing your pet's medications from unknown online pharmacies. Please talk with us first before purchasing your pet's medications from another source. You will find our in-house pharmacy prices are very competitive with online pharmacies. Please be aware that you pet is required by law to be examined at least once in the past year to continue to refill medications.