Marie Deavers, DVM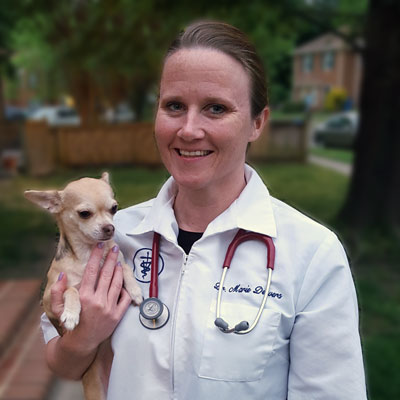 I came to veterinary medicine by a different path than most of my veterinary colleagues. I didn't discover veterinary medicine until I adopted my first dog, Riley, at 25 years old. The first morning after taking him home I awoke to tapeworms on my pillow and the wall beside my head. Yes, of course my new baby was sleeping on my pillow. As you can imagine, I was on the phone with the veterinary office immediately. At this appointment I learned where the tapeworms came from, fleas, and their lifecycle. I also learned about the hookworms he had, which I couldn't see, and the risk of heartworm disease. That was the most information I'd learned about anything in one thirty-minute visit to the doctor EVER. I wanted to learn more about veterinary medicine.
I started looking for a position in a veterinary hospital soon after that appointment. I found a position as a veterinary assistant which confirmed veterinary medicine was for me. Dr. Margaret Hermann at Shallowford Animal Hospital in Winston Salem, North Carolina was my mentor. She taught me a tremendous amount about medicine, animal stress in the hospital, and how to foster a low stress environment for our patients. During my time with her I started studying animal science at North Carolina Agricultural and Technical College in Greensboro, NC. I applied to North Carolina State College of Veterinary Medicine in 2004. I was accepted that year and Riley and I moved to Raleigh, NC to start veterinary school.
After graduation Riley and I moved to the Hampton Roads area to start my career as a veterinarian. I worked for a wonderful local practice for four years before I decided to work as a relief veterinarian. (This is where a veterinarian fills in at different practices.) During that time, I gained experience in emergency medicine and shelter medicine. Through these experiences the realization it was the time to open my own practice became apparent and my priority.
I knew it was time to create an environment where the physical, as well as emotional health of our companion animals is a priority. We will treat the physical and focus on the emotional wellbeing of our patients at Healing with Heart Veterinary Care. I plan to offer the best veterinary medicine available in an environment where our patients and owners are engaged and at ease.
My Riley dog passed in August of 2014, so he wasn't here to see my dream become a reality. Healing with Heart Veterinary Care is dedicated to my Riley and we will honor all of our patients as I honored him.
Thank you for trusting us with your animal's care.